---
10/29/17
Making Progress. Final compression came in at 15.1:1
Awesome work by George and Tommy at Bergmann Wunderlich Machine

5/29/17
Custom Diamond Racing Pistons came in. 9.8cc effective dome volume and 417g.
4/16/17
Last year was a bust in terms of getting the car out. Have made some changes to the car
for this year in hopes of getting the times to come down a bit. Goal will be to get into the 9.0x.
- Removed the two heavy AGM 16v batteris and replaced with an 8lb Li battery
- Installed a set of 28" stiff side wall slicks
- Fitted and painted a pair of Motor City Solutions fiberglass doors
- Refreshing the tired 359. Will be a 363 with higher compression (from 13.7 to 15.5) and a lighter piston with thinner ring package
- Should be down to 2800lb race weight

We made a mold of the TFS-R combustion chamber for this year.
Sending off to Diamond for a set of custom gas ported pistons.

3/26/16
Got the Holley HP tuned on the Redline Motorsports Dyno in Bloomington, IL last Monday.
Curve is much smoother and it clearly revs better now.
| | | | | |
| --- | --- | --- | --- | --- |
| | | | | 2300 CFM Wilson throttle body. |
11/12/15
Put a bunch of new videos on the site... http://www.the-arnolds.net/Cobra/images.htm
1/25/15
Had my clutch re-worked by Tim Hyatt for this season. Got clutch back in less than a week.
And he supplied me with a wealth of information to read as well. He settled on 50 lbs for lowest base setting and
we will be tuning with counter weight. Should be able to get the 60-fts to come down a bit now and have less tire spin on the shifts.

Pics are here.
10/26/14
This year has been forever getting the car to the track. Last Wed was first time out and it went surprising well in my opinion.
Was not sure what to expect with the wheelie bars. And yes, I had them set too low I think (6") but I wanted to be conservative.
Also made some runs last Saturday and went 9.48 and 9.56 spinning again.
Made four passes Wednesday, 9.71, 9.48, 9.43 @ 142.6 (personal best) and 9.51.
Could not get the car to 60-ft but bars are probably low and I am not transferring the weight.
Car is very consistent and it is the safest I have ever felt.
Launched straight as an arrow every pass. It was very exciting to get back out there - my 14yr old son and I had fun!
Shifted at 9,300 and left line between 7,200 and 7,500.
Video is below. First two are low and high quality from outside.
Last is from in-car (my Replay XD1080 camera's mic has bit the dust - I think my car killed it LOL).
Low-Quality

High-Quality

In-Car Run

8/1/14
Brought the car back yesterday from having wheelie bars made. I had one of Jerry Bickel's guys build them
for me out of his garage and boy did they turn out nice. They are 65" long (measured from centerline
of the axle housing tube to the centerline of the wheels). Width is 23". Need to pull the rear end
to get a coat of paint on it, notch the rear valance, and then I will be very close to getting her to the track.
Pictures of the bars are here.
6/16/14
It's June 2014. Car has been coming along but SLOW. International travel has put a damper
on racing this year. But I am now making progress. Motor is back from re-fresh and is finally back
in the engine bay. After discussing the clutch with GForce, we have decided it is so close to run it
as is. After I get the car all together I will be taking some measurements for anti-roll
bar and wheelie bar brackets. Then need to pull the rear and have them welded on
and have the bars made. I have some pics here of the progress so far.
I have added a Moroso 3-vane vacuum pump to the mix for this year
and 3 additional V-Net sensors to the racepack (crank-case vacuum,
oil pressure, and fuel pressure). I remotely mounted the sensors
on isolators to help them live under high vibration environments.
Also added a TeamZ Motorsports adjustable lightweight 9" housing
to get the instant center location and length dialed in.
12/28/13
Made a 2013 compilation video.
11/3/13
Final update for the year.

Only regret for 2013 was not having enough time to really figure out the clutch.
I got two more outings since the 9.55 pass. First was during a 21 October 1/8th-mile
bracket race where the track was prepped pretty good. VERY promising with a best pass
of 5.956 @ 115.89. 60-ft was better with a 1.353. This really puts the car into the 9.30s...

My last outing for the year was last Friday, Nov 1 during a 1/4-mile Test & Tune at Gateway.
I made three passes, the best ever being a 9.46 @ 141.43. Track was not hooking that good (for me at least).
So very promising I think. I truly believe the car has a 9.20 in it once I can get the 60-fts back with a
little clutch re-work and tuning. Interesting that the tires (26x10 M/T stiff side walls) are spinning
on each shift. This can be seen by noting the green driveshaft rpm curve on the racepack plot.
The spikes indicate tire spin. Time for a bigger tire ?

Plans for this winter are to install a set of 60" - 62" wheelie bars, and have the clutch re-worked
for less base pressure.
9/13/13
Was able to make two full passes with the new clutchless 5-speed today.
Knowing that the clutch needs to be re-worked for less base pressure
I went to track to get down track for first time in all 5 gears.
I tightened up the front struts so as not to drag the rear bumper.
First pass spun bad with a 1.46 60-ft and went 9.82.
Second pass loosened up struts a bit and the car still spun but 60-ft was 1.38.
Went 9.55 @ 139.4, my quickest pass to date.
In-car video is here.
Next step is to get clutch out and I think I am going to give a
lower coefficient of friction disk a shot before I send the clutch back to GForce
for lighter springs and modified levers.
9/7/13
First time out with the GF5R in the car was last wednesday.
Had time to make to attempts. The first attempt car went pretty hard left and dead-hooked tires
so I aborted the run. Went back to the pits and I took two turns out and left counter weight the same.
I made an anti-roll bar adjustment to straighten launch out. It dead hooked again went to the moon so I short shifted into second
with tires still in the air. It didn't feel like it was coming down any time soon, so I lifted - was hard to see the track.
Links to videos: In-car & from stands.
6/4/13
GForce clutchless 5-speed just arrived. I took some pics below. Pretty much a work of art.
Just replaced the 4.86 center section with a 5.14. Time to shoe-horn in this baby and get back to the track.
5/19/13
Got the Cobra back to the track a couple of weeks ago on a Wednesday T&T night
at Gateway Raceway Park. I took one turn out of the clutch this time.
First pass I set the shift light to 8,500 and the car went 9.70 at 142.3.
Second pass we increased the shift point to 9,000 and promptly broke third gear in the TKO6000.
I just ordered a GForce GF5R 5-speed clutchless unit.
Here is an in-car video of that first pass:
MP4 file -or- YouTube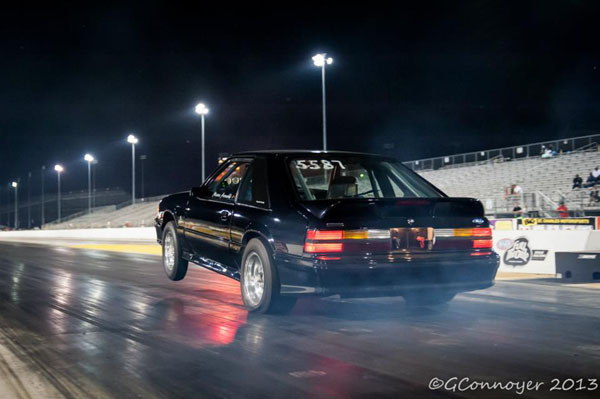 10/27/12
I finally got the Cobra back to the track last Wednesday night with the new 10.5" adjustable 3-finger with
single high coefficient sintered iron disk built by G-Force Transmissions.
My base settings on this thing were 600 lbs base pressure and 5 grams of counter weight.
Had no idea when I left at my usual 6,500 if it was going to walk through the clutch
or put it on the back bumper!! Kind of exciting actually.
I found this 50-year old man breathing heavily pulling up to the line LOL.
It was more like the later, so I had to pedal and short shift into second.
A lousy 1.44 60-ft and short-shifted 8,000 shifts netted a 10.008 at 141.5.
Here are a few pics of that run: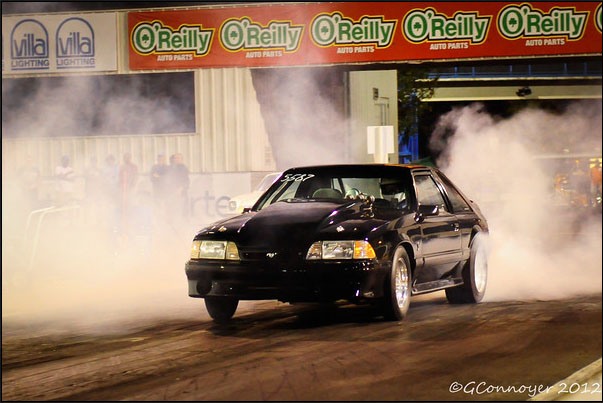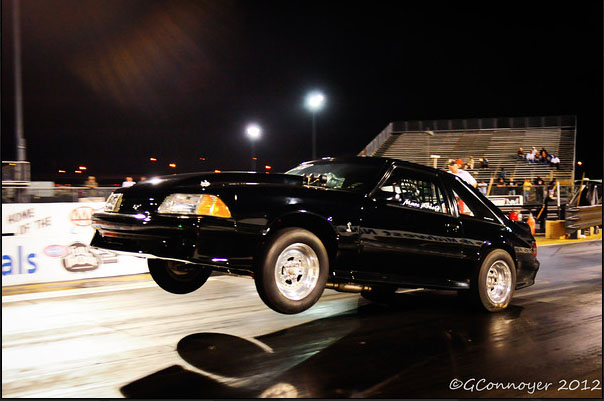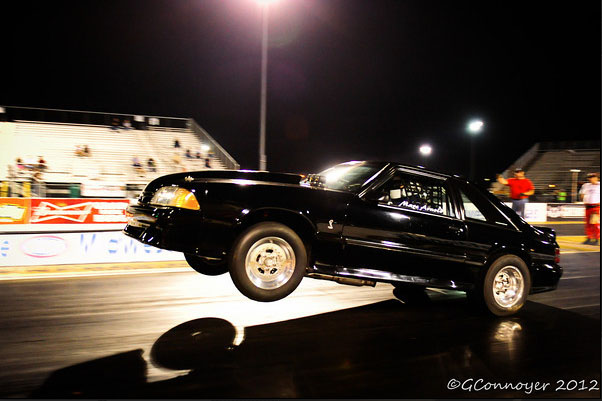 But I think I am really close with the settings so next time out
(hoping for continued warm weather here in St. Louis before track closes)
I will lean on it a bit more by raising the shift light to 9,200 and see what the hell happens.
Only got 1/2 more passes in... ever have the shifter handle break off in your hand on the 2-3 shift? I'm like Damn!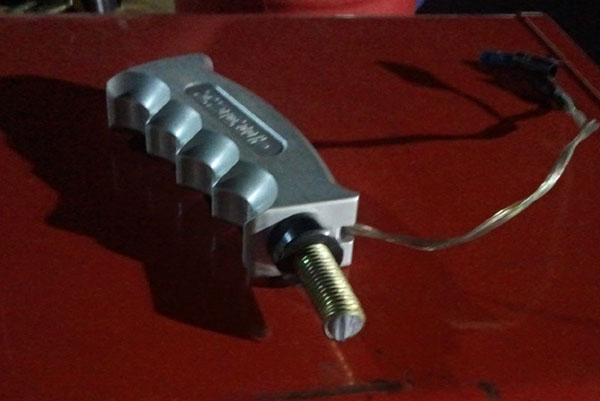 The 60-ft was better this time with a 1.39, and the run was going pretty good (still had shift light set to 8,000).
Here are pics from that run: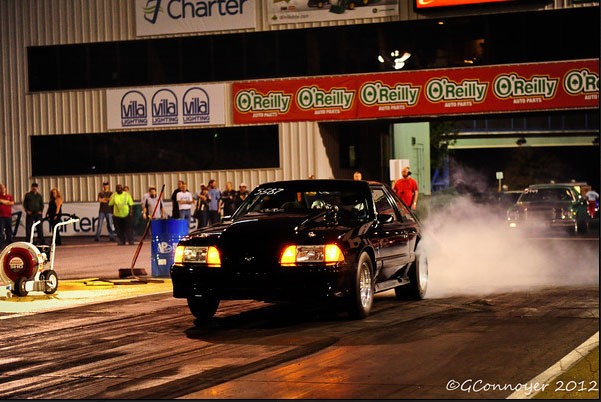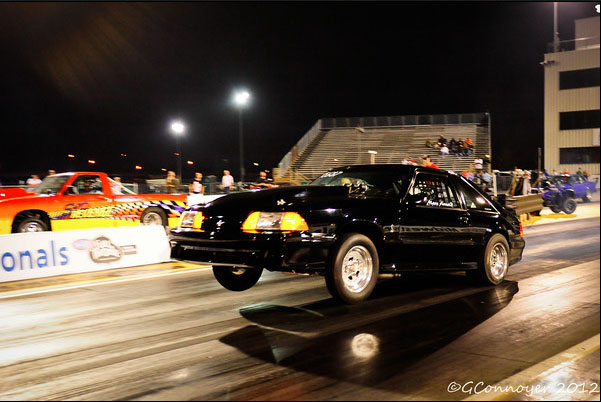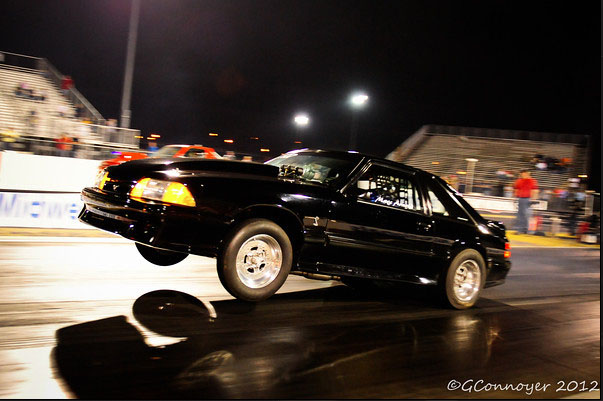 7/4/12
Made two passes several weeks ago.
First pass was a 10.09 at 139 where I was going easy to see
if car went straight - which it did. Video is here: video link
Next pass I raised the shift rpm from 7,800 to 8,500
and promptly exploded the new clutch: video link
So I am done with the diaphragm clutches. A new 10.5" single adjustable clutch is going in.
4/1/12
No this is not an April Fool's joke.
I will actually be getting the car back to the track after three long years.
Picked up a new barrel of VP C-14 and just got the motor back together.
No real changes, just a refresh of the shortblock (new GRP rods, rings, bearings)
and new PAC Alloy valve springs. Going to stick with the baby solid roller for this year.
1/22/10
I put together a new slideshow from the 2008/2009 season.
9/22/09
A couple of new videos from Black Sunday race at Gateway from (last Friday).
9/02/09
I attended Bret Kepner's Gateway Outlaw Allstars event yesterday.
There was a lot of great racing after the rain went away.
Bret got some very good shots of the car here.
I was plagued with clutch issues all day, which ended with a clutch explosion.
7/26/09
Bret Kepner got a few good shots from last Wed night here. I have managed to NOT
remember where third gear is on my TKO 600. Got one clean pass with a 9.75 @ 140.6.
7/01/09
Got one good pass in at Gateway last night. Took it easy first time out this year
with a 6,500 rpm launch and struts pretty stiff. Made a 9.78 @ 140.6 pass in 2,800 ft density altitude.
60-ft was a not-so-great 1.37, but didn't want to set it on stun first time out.
There is definitely more in it so stay tuned.
Video is here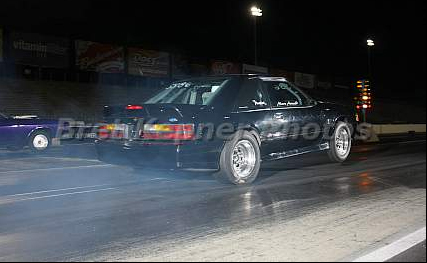 6/21/09
I recently tested a solid cam on the AFM dyno and here are the results.
I am very happy with the way the car revs with the solid roller in there.
The motor pulls to 9,300 rpm without a hint of valve float.
The solid cam plotted is basically the same specs as the hi-rev cam from last year.
I have generated a comparison graph below.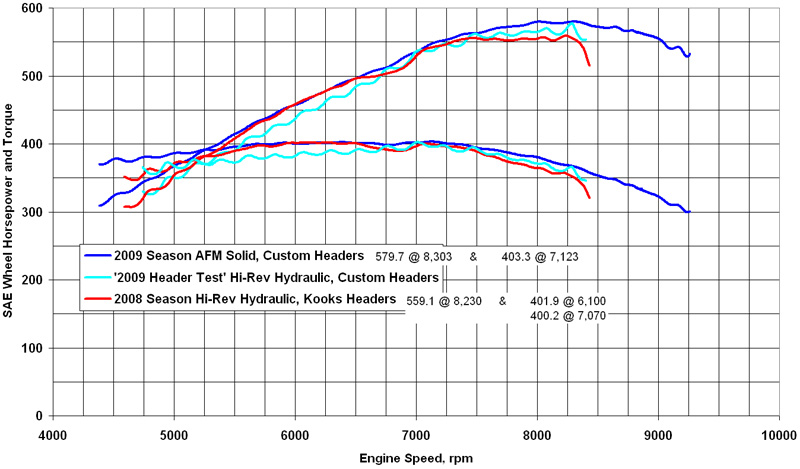 A few notes:
- The red curves are from last year (AFM Hi-Rev hydraulic and Kooks headers).
- Green is the interim test we did with the shorter custom long-tube headers designed by
Mark Lelchook at Performance Welding.
- Blue is the solid cam with custom headers which is what I will be running this year.
- For the solid, I went with Pac Alloy 1326 springs set up with ~300 on seat, 800 open.
- A note on compression ratios. The solid tests were performed with a thicker head gasket putting compression a ½-point lower (14.35 to 13.85). There was some evidence the pistons were just kissing the heads from last year.
- The solid gained back almost all the torque I lost with the custom headers below 6,800.
- All in all, should pick up some at the track and I feel these results are a testament to the Hi-Rev cam technology.
5/01/09
A bunch of folks have been asking me about where I bought the Cobra,
if I used to drive it on the street, etc. lately. I have written a Cobra History
if you are interested in reading.
3/23/09
I havn't updated the site in a while!
Ever since I went to the 9-inch rear last season, I have been struggling to get my ET back. I lost about 20 rwhp from the swap, but think it has been a blessing in disguise, because it has made me work harder at getting the car to work better - the last time out at Benton last fall, I managed a 6.12 pass in the 1/8-mile. I think this is good for a high 9.50 pass in the 1/4, so I feel I gained back that lost ET.
Plans for the 2009 season are starting to take shape. I have updated the exhaust by installing a custom set of (shorter) stepped longtubes at 26.5" to 29". The primary tube sizes are the same as the Kooks at 1-7/8" to 2" and I am going with the same 3-1/2" merge collectors. The motor plate and mid plate installation gave me the clearance for these shorter tubes by removing the stock motor mounts. I also installed a 1 quart capacity Accusump for a pre-oiler.
The dyno chart shows I picked up a good bit of power above 6,500, with an average just over 14rwhp from 6,600 to 8,300. Peak was right at +20 rwhp at ~8,300.
Here are a few picks of the installation.
I will be setting up the motor for a solid roller here shortly to see if I can get some more rpm out of her. I will be trying a couple of custom Anderson cams.
10/8/08
Added a video from 1/8th-mile track at Benton, IL from last Sunday.
9/22/08
Added a couple more pics from the track.
Added an in-car video from last Wednesday.
9/14/08
Added a few pics from the track.
Added a video from the last 4 runs this year.
Here is a slow motion view showing the front tires coming up on the 1-2 shift.
7/16/08
Couple of videos from last Wed testing trying some different things with suspension.
gir-09jul2008-1.wmv
gir-09jul2008-2.wmv
6/29/08
The rain stayed away for the Pinks All Out event and I am glad I took part.
My car was consistent, running in the 9.80's all weekend. Could not get the car
to hook up, spinning the tires at the hit on every run.
Here is an in-car video of the run with Rich's arm drop.

The final 16 car field was a 10.30 class.
6/14/08


Received my pre-registration packet and I am Car #7 so come check it out
on June 27 28.
5/23/08
I finally got the car back running. I got a late start this year, and the weather here in St. Louis has been horrible.
The new Pro Motion TKO 600 is in along with the freshened shortblock.
I went to Gateway last Wednesday to run, but their timing system decided to take a dump.
So it looks like I will try again next Wednesday.
I got a spot on Pinks All Out on June 27/28 at Gateway, so you can look for me there.
12/31/07
Put together a 2007 compilation video
12/23/07
Put together a slide show made up of
all the images from the 2007 season.
2007 Racing Season Image Slide Show
12/22/07
Added a second view to one of the Midwest Shootout videos.


12/15/07
2007 Season Wrap-Up
My best ET (9.59) from this year came on April 16 when I still had the 8.8 rear end in the car.
The first half of the year I fought a broken upper ear on the rear end,
causing the car to launch to the left every pass. Installation of a Strange 9" housing with 4.86 gears
in mid September solved that problem. Once I got the suspension dialed in with the stiff sidewall 26" slicks and steeper gears,
I upped the launch rpm to 8,000 and the 60-fts started to come down to the 1.30-1.31 range.
I figured the 9" would have scrubbed off some ET but I am not sure this is the case.
Unfortunately, the TKO broke. It served me well, with over 90 passes on it. A borrowed TKO 500
from Anderon Ford Motorsport netted several low 9.60 passes, with a best MPH of 143.3. I broke 2nd gear in this
transmission, ending the season.
For next year, I have decided to give a TKO one more shot. The new TKO 600 from Walt at Pro Motion was just finished.
Gears have been Cryo'd and REM'd and the trans is on its way here. Will have the shortblock freshened up as well.

11/11/07
Gave the TKO 500 one more shot at KCIR but on the first pass, 2nd gear went away
with the wheels 2 feet in the air. Got a nice series of pics from that launch though.
11/4/07
Had a great time at the Midwest Shootout at KCIR yesterday.
Got 5 runs in, 4 in the low to mid 9.60's with a best of 9.61 @ 143.3.
I had a face-plated Pro Motion TKO 500 in the car for this race,
and boy was it tough with the steep 1st gear. The combination of the 3.27
1st and the 4.86 gears out back made 2nd come up real fast. I never really
got the hang of it, but am glad I got the chance to try this transmission out.
Put 4 new videos up and 3 new pics from the race.
10/13/07
Made two good runs at Gateway last Wed night before the
TKO let go on the starting line. Ended up breaking the main cluster which took
out first and reverse. Should have trans back in the car early nest week.
First pass was a 9.62 @ 143.8 with an astonishing 1.30 60-ft. The mph was huge as well.
Video is here.
Second pass was a 9.61 @ 142.0 with a 1.32 60-ft. A huge headwind picked up at the track.
Kind of a bummer on the trans because I was just getting the suspension dialed in
with the new 4.86 gear and 9" housing. Hope to head back out next Wed or Fri to Gateway.
09/27/07
Interesting night at Gateway last night. Dragged the rear bumper twice
before we figured out how to tame the car down with the new stiff
sidewall tires. Huge thanks to Brian Meyer for helping me out at the track.

First pass I got thrown back in seat so hard I accidently pulled it out of first.
Second pass I was pretty surprised it hung the wheels again. I kept in it, but
missed 4th gear. By this time, I ran out of clean shorts.
Third pass we tightenend up the struts too much and it lifted the wheels
only about 4 inches and it went 9.69 at 141.x. We kept adding tire pressure as well.
Fourth pass was a 9.65 at only 135 because I had to hit the brakes.
I must have hit some fluid at the top end. The car started heading towards the center line
which you can barely see in the fourth video. Looking at the incrementals from
that run, we are estimating a low to mid 9.5x ET. 60-ft was a 1.31 on that pass.
Videos are here.
09/23/07
The weather was very warm Wed. Made 2 passes in the 9.80's with new clutch.
Car has now launched straight 3 times in a row, so I am very happy
with the results of the 9" install. Here are a few pics.
09/12/07
Finally made it to the track Wednesday night. Gateway was packed.
First pass off the trailer was an easy one and I ran 9.69 @ 140.5,
coasting from about 150-200 feet before finish line. Car went a little left.
With the 4.86 gears in the 35-spline spool, I hit the 9,000 rev limiter
I had set in the PMS. Bumped that up a few hundred rpm, adjusted
the anti-roll bar and tried again. Car went straight as an arrow for the first time
all year. Hit third, and as it turns out, I must have over-centered the pressure
plate and the run was over.
Will be heading back out next Wednesay.
07/8/07
While waiting for the new 9" housing to show up,
I took the Tow Vehicle to the track last Friday.
I think she has a 12.70-12.80 in here if I can get her hooked up.
Here is a video of a 13.37 pass.
07/4/07
I have DTS Rear End Girdle Cover for sale. Also have a set of 4.88
gears for sal, only have dyno time on them.
After breaking my second Ring and Pinion and taking out my second 8.8 rear-end
housing, I have decided to go with a Strange 35-spline 9" housing with 4.86 gears.
The broken housing control arm mounting ear was the cause for all the crooked launches
this year. Finally found out what the problem was.
05/21/07
I put 6 more videos up. Time for new slicks. The 60-ft times were off a tenth,
the last pass last Friday going 9.65 @ 143.4 mph!

04/16/07
I broke into the 9.50's with a 9.59 @ 142.3
04/22/07
Got four passes in at Gateway last Wednesday.
Worked on the suspension settings all night and was spinning slightly on every pass.
Went my personal best of 9.63 on the third pass, though.
Ran 9.79 @ 140.8, 9.69 @ 139.0, 9.63 @ 141.6 (6.15 @ 113.5 1/8) and 9.67 @ 141.9.
I put new video of the four runs up.
03/11/07
Made it out to the Midwest shootout yesterday at KCIR. Weather was great.
The first pass was kind of an easy pass to check track, leaving at 7,200.
60-ft was poor as it bogged with a 1.46. Went 9.82 @ 141.8.

For second pass, I upped the launch rpm to 7,900 and it pulled a pretty huge wheel stand with a 1.33 60-ft.
When I hit 4th gear, something broke, which I think is the clutch. Will pull the TKO and take a look.
Bummer because she was on a pretty good run.
I made videos of the two runs, first is out of car, second is in-car.
My friend Dave Groen took some great pics that I posted too.
03/02/07
Where I will be racing this year

| | | |
| --- | --- | --- |
| Date | Location | Event |
| Sat, Mar 10 | KCIR, Kansas City | Midwest Shootout |
| Fri, Apr 13 | Gateway International | Super Stick Eliminator Series 1 |
| Sat, May 12 | Montgomery Motorsports Park | Street Stangs Track Day |
| Fri, May 18 | Gateway International | Super Stick Eliminator Series 2 |
| Sat, Jun 2 | US41, Morocco, IN | Midwest SVT Challenge |
| Fri, Jun 15 | Gateway International | Super Stick Eliminator Series 3 |
| Fri, Jun 22 | Gateway International | Super Stick Eliminator Series 4 |
| Fri, Jul 6 | Gateway International | Super Stick Eliminator Series 5 |
| Fri, Jul 27 | Gateway International | Super Stick Eliminator Series 6 |
| Fri, Aug 10 | Gateway International | Super Stick Eliminator Series 7 |
02/20/07
I received my NHRA Competition Drivers License today.
That's Cool.
02/13/07
I put together a 2006 compilation video.
Dial-up unfriendly at 39MB.
02/08/07
I added links to head flow numbers and scans of time slips
to the combo comparison table.
Also, I found the time slip of my first pass ever in the Cobra.
It was only one month old.
14.356 @ 98.55
02/04/07
I have generated a table that summarizes all my major
combinations during my natural aspirated journey.
Check it out here and let me know what you think.
12/30/06
I have added 16 new videos to the site and separated them by year.
4 have been added from 2001 (10.90's with the 306).
12 have been added from 2004 (low 10's with the 347).
12/16/06
I added a bunch of photos of the 359 buildup.
12/2/06
I have re-arranged the links at top for easier navigation.
The site was getting too big. I have separated out each of the main combos.
11/28/06
Made yet another trip to Kansas City last Sunday. I got four passes in.
This time the temps were in the mid-70's!
Ran mid 9.70's at 141-142 mph. I have 4 new videos from inside the car this time.
11/12/06
Made another trip to Kansas City this Sunday. I got four passes in.
Fought the track all day. The temps were in the mid-50's but I could not get
the car to hook up down the track. Is there such a thing as too much hp? I think so when you run a 26" tall tire!
Things started to come around the last two passes though. The last one would have been
a real fast (it did go 9.68 @142.5) except the left anti-roll bar end link broke and departed itself from the car.
Boy was that interesting going down the track.
See if you can see the car twist on launch. I have 4 new videos up from today.
I also found a video from the archives. In 1999, we attended the Mid America Shelby Meet
in Tulsa, OK. I ended up winning a small 5.0 bracket class. This was at a time
when I drove the car on the street. Here is the video from the semis.
11/7/06
Made the trip to Kansas City on Saturday, Nov 4. I made my first two passes
easy ones. They were granny-shifted (hey, who cares, I made it) and in the 9.70's,
so I finally got my class 4 license.
My third and final pass would have been a good run with a 1.32 60-ft,
but I got loose twice and shut the run down.
Videos are posted here.
Pics are posted here.