Pics of the motor build up are below
10/22/06
The 359 project is completed finally. Compression came in at 14.3:1.
Dyno numbers are 598 std rwhp and 583 sae rwhp (graph below). This is with an
Anderson Hi-Rev hydraulic cam in there and no vacuum pump installed.

Best ET/MPH so far with this combo has been a 9.59 @ 142.5 @ 2950lb.


I have put together a video from last friday here, 56k dial-uppers
beware - the file size is 29mb.
Dyno Sheet from AFM on 10/14/06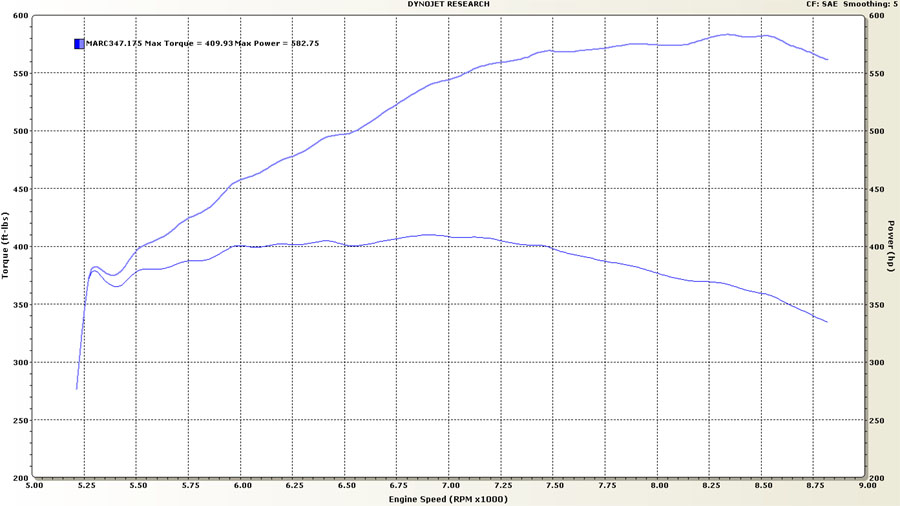 14.3:1 359 c.i.d. Engine
FRPP R302 Block, 4.100 Bore
Cornett Machine Billet Crank, 1.800 Rod Journal, 3.400 Stroke
GRP Aluminum Rods
Diamond Gas-Ported Dome Pistons
Speed-Pro Rings
AFM AF-N113HLSP Hi-Rev Hydraulic Camshaft
Crane Link-Bar Hydraulic Lifters
Kuntz and Company Edelbrock Super Victor EFI Intake
Kuntz and Company TFS TW-R Heads
Felpro MLS Head Gaskets
2.120" Ti Intake Valves, 1.600" Ti Exhaust Valves
Nextek Valve Springs
Smith's Custom 3/8" Pushrods
105-mm Accufab Race Throttle Body
Custom Canton Aluminum Pro Drag Oil Pan
AFM Aluminum Flywheel
Innovators West Harmonic Balancer
Peterson External Oil Pump
System 1 Oil Filter

Suspension
R&R Chassis 8-Pt Roll Cage
AFM Subframe Connectors
Bogart Force 5 Wheels

Front:
D&D Motorsports Tubular K-Member, A-Arms and Coil-Overs
Granatelli Bump-Steer Kit
Flaming River Manual Steering Rack
Strange Single Adjustable Struts
Goodyear Front Runners Mounted on 15x3.5 Bogarts


Rear:


4-Cylinder Rear Springs
HPM Double-Adjustable Uppers
HPM MegaBite Sr. Lowers
Modified HPM Anti-Roll Bar
AFCO Double-Adjustable Rear Shocks
M/T 26x10s ET Drag Slicks Mounted on 15x10 Bogarts with 6.5" B.S.

Fuel System
5-Gallon Aluminum Fuel Cell
Aeromotive A1000 Fuel Pump
Aeromotive A1000 Fuel Pressure Regulator
Delphi 42lb/hr Injectors
Edelbrock Fuel Rails
Ignition
Mallory Hyfire VIIS Box
Mallory Promaster Coil

Drivetrain
Pro Motion Powertrain TKO w/Liberty Face-Plated Gears, 2.92 1st gear
Strange 35-Spline Spool and Axles
Strange 4.86 Pro Gears
Dynatech Custom Aluminum Driveshaft

Exhaust
Kooks 1-7/8" to 2" Stepped Long Tubes HPC Coated
Performance Welding 3-1/2" Merge Collectors
Bullet 3-1/2" Mufflers
Miscellaneous
G-Force 5-Pt Harness
Quick Time Steel Bellhousing
Pro-5.0 Shifter
Custom Meziere Aluminum Radiator
Autometer Mechanical Oil Pressure, Water Temperature, Volts, Brake Pressure, Fuel Pressure Gauges
Anderson PMS (Programmable Engine Management System)
Anderson AF-0112 4" Power Pipe
A few pics of the new setup installed.
(click for larger images)
---
2/8/06
I have decided to go with a new shortblock this year. It will be based on
my R302 block, but will be 359 cid with a 4.100 bore and 3.400 stroke.
I had Cornett Machine build me a very lightweight billet crank, which
came in at just 39 lbs (13 lbs lighter than last year's crank).

Rods are going to be GRP aluminum rods which are 100 g
lighter than last year's steel rods.
Pistons are Diamond for this year, with more compression.

JDC is building it up for me.
Pics are here.
359cid Motor Buildup
| | | | |
| --- | --- | --- | --- |
| | | | |
| | | | |
| | | | |
| | | | |
| | | | |
| | | | |