This page is setup in reverse chronological order.
4/7/02
I made it to the AFM dyno last week with the new N-111 cam.
A big thanks goes out to Rick Anderson for all his help.
We managed to meet my goal and break the 400 rwhp mark with 402.8 rwhp at 6,500 rpm and 347.4 rwtq at 4,900 rpm. We made a pull to see where the stock factory hydraulic lifters floated with the AFM N-111 cam and that turned out to be 7,800 rpm!!
The AFM HI-REV cams are awesome
Interestingly enough, the Evac system made absolutely no difference on the dyno in terms of peak power. There could be seen a slight bump at high rpm by about 1-2 hp, but I will not be running it this year.
The Bullet mufflers made 2.4rwhp more than the Bassanis.
The dyno sheet and combo can be seen below.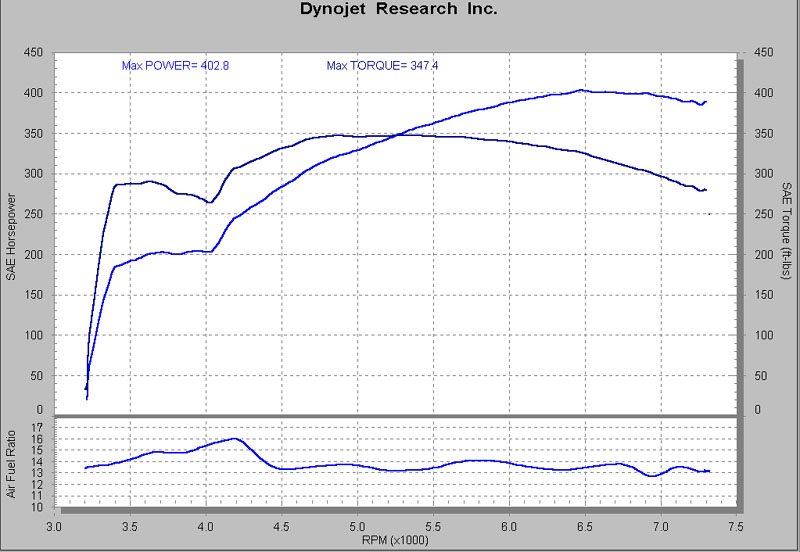 ENGINE
JDC Engineering 12.27:1 Compression 306 Shortblock
Ross Forged Dome Pistons
Stock Block, Crank, Rods
Twisted Wedge Heads - AFM/JDC Stage III Ported
AFM N-111 Hi-Rev Camshaft (new)
38 lb-hr Injectors
Mallory Fuel Rails
Pro-M 80mm Mass Air Meter
Accufab 90mm Throttle Body
Box-Stock Edelbrock Victor (new)
EXHAUST
Bassani 1-5/8" to 1-3/4" Stepped Long Tube Headers

Bassani 3" Offroad X-Pipe

Dynomax 3" Bullet Mufflers (new)
SUSPENSION
DRIVETRAIN
4.56 Rear Gears
5-Lug Moser 33-Spline Axles
Moser 33-Spline Spool
Moser C-Clip Eliminators
Pro Motion Powertrain Pro-Shifted TKO II (new)
McLeod Sintered Iron Clutch Disk
MCleod 3-Finger Adjustable Pressure Plate
Pro Motion Powertrain Adjustable Quick-Ratio Clutch Quadrant and Cable
Pro Motion Powertrain Wide-Track Firewall Clutch Cable Stabilizer/Adjuster
MISCELLANEOUS
Electric Fan
Trick Flow Valve Covers
5-Lug 15x10 Weld Pro Stars
5-lug 15x3-1/2 Weld Pro Stars
Corbeau Forza Racing Seats
---
2/16/02
Attempted to dyno the AFM N-111 cam today, but my temporary clutch I installed
(the 3-finger is back at McLeod getting re-worked for a different disk) slipped badly.
Will have to wait for the new clutch.
---
2/01/02
The AFM N-111 Hi-Rev cam is installed. Will be heading to the dyno
next week to see what happens.

---
1/01/02
HPM Anti-Roll Bar was installed by Keith Dolly of Dolly's Machine & Welding.
HPM Double-Adjustable Upper Control Arms are installed.
See a few pics here.
---
10/28/01
Installed a Moroso 3-Vane Evacuation system to see what kind of power
a system like this is worth. Hope to get some dyno numbers up on the site soon.
---
10/17/01

On my third pass at Gateway I finally popped third gear in the T-5. Bummer.
It lasted for 22 passes, 7 being in the 10's. Will most likely put a pro-shifted TKO II
in next.
---
10/7/01
Made five passes at Gateway during Test & Tune.
All five in the 10.9x with my best pass a 10.92 @ 124.3 with a 1.476 60-ft.
Pretty cool for a natural aspirated 306.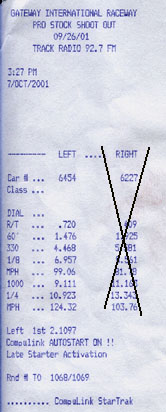 ---
10/5/01 Dyno Tune Update
The Victor moved the power peak up 400-500 rpm
and carries the hp out farther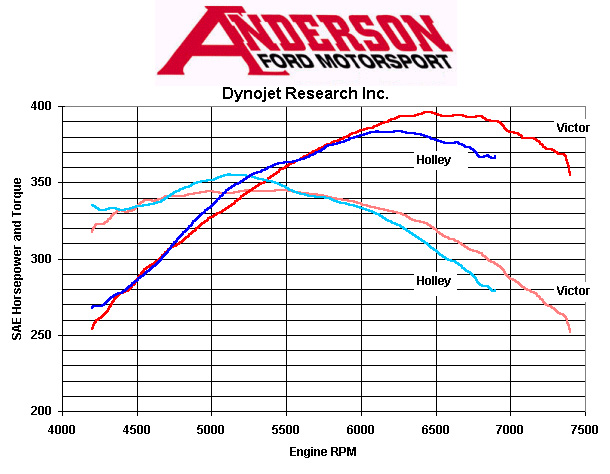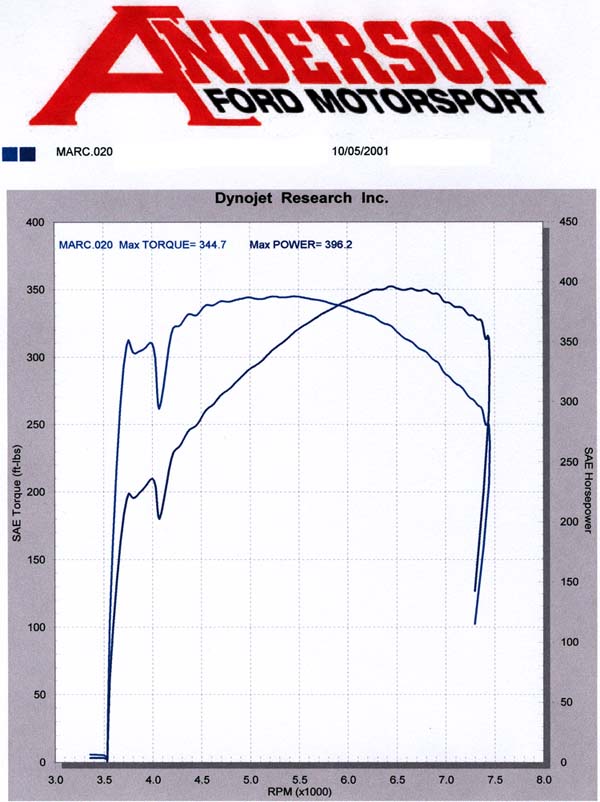 ---
10/3/01
Made three more passes at Gateway tonight:
11.238 @ 122.34 with a spinning 1.512 60-ft
11.153 @ 122.77 with a spinning 1.509 60-ft
11.076 @ 122.67 with a hooking 1.460 60-ft
The box-stock Victor seems to have been worth 0.32-sec and 3-mph over
the AFM Stage III ported Holley.
---
10/1/01
Comparison Between AFM Stage III Holley
&
Box-Stock Victor

(click images for larger views)
I've always wanted a motor I could put one of these on. It will be interesting to see what
it does at the track. I think it will be worth something.
---
9/13/01
Made three passes last night at Gateway, all in the 11.2X's with my best run being a
11.21 @ 121.74. with a 1.470 60-ft.
The best I can tell, this box-stock Victor picked my car up 2-tenths and 2-mph
over the ported Holley.
I think that with this mph, I can get my Cobra into the 10.9X's.
---

9/5/01
Only got a single run in tonight with the Victor Intake before
I had a few ignition problems crop up. I recorded my best time to date with a
11.33 @ 120.78 with a 1.499 60-ft.
Next time to the track will be Wednesday the 12th.
---
9/2/01 - Victor Intake
Picked up a used Edelbrock Victor Intake today and installed it.
I think the motor will like this intake with the short runners allowing for higher
peak horsepower. Will be heading back to Gateway on Wednesday the 5th to see.
---
8/18/01
Made a couple of granny-shifted passes at Gateway and recorded a best of
11.40 @ 119.73 with a 1.458 60-ft.
The 3-finger clutch worked well at 7,000rpm.
Next time out I will make some full-throttle shifts and tune with
the PMS a bit.
---
6/17/01
Took part in a track rental at Gateway yesterday and got several passes in to tune the new combo.
I have found there is a fine line with the diaphragm clutches, and they do not like shifting much past 6,500 rpm flat on the floor. Since I do not race in a class where there is a weight penalty for the 3-finger clutches, I will probably be going with one in the near future. This will allow trouble free shifts at and above 7,000 rpm.
I did manage to get one clean pass in and went 11.42 @ 119.2. This was with a spinning launch and hot weather so I know there is more in the car.
6/7/01
Made it to the AFM dyno last night where Rick Anderson did his magic on the tune. We made 383.5rwhp at 6,300 rpm and 357.3rwtq at 5,100 rpm. Pretty cool for a naturally aspirated 306 with factory hydraulic lifters. This AFM N-91 cam doesn't lay down and is still pulling hard past 7,400 rpm.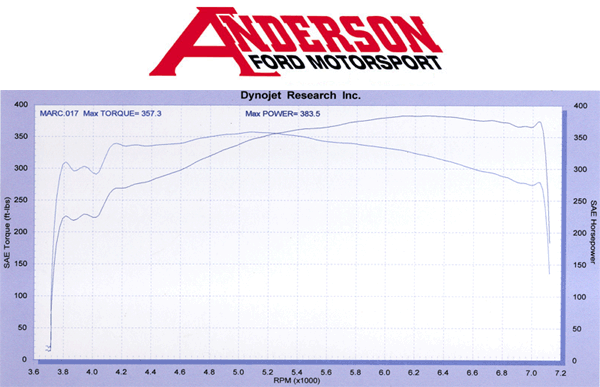 (With AFM Stage III Holley Intake)
---
6/3/01
Made it to the track last Friday and a big thanks goes out to my buddy Jon Carls. He busted his butt for me these last 12 months and all his hard work finally paid off. Jon has put together a strong motor for me and he recently installed a 33-spline spool and 4.56 gears in the rearend. The new oil pan did the trick, we have good oil pressure, and I made a couple granny passes, going 11.9X's at over 117mph.
The funniest thing is that the timing never got set and happened to be 10 degrees retarded!! With the timing set correctly and a tune, I should be looking at 120+ trap speeds soon.
---
5/28/01
Well, we roasted the main engine bearings on the dyno last month. The first pull made 370 rwhp but it went all down hill from there. We are attributing this mess to the Canton T-style oil pan. It's either that or I am cursed.
Have a more traditional Deep sump pan in there this time, have changed the cam to an AFM N-91 Hydraulic and had JDC Engineering do a Stage III port on the Holley Lower intake.
It's ready to rock and roll and I will be heading to Gateway this Friday night for Test & Tune. If all goes well, I will get on the AFM Dyno and post the results.
---
3/4/01
I fired up the new motor today. Sounds sweet and the C-12 race gas smelled even sweeter. Still waiting on the Pro-M 80mm and 38lb injectors. Once they are in I will get some dyno numbers up on the site.

By the way, I never realized just how big a 90mm Throttle Body was until I started grinding on the Holley intake to match. Will most likely have the intake welded up to get rid of the slight mismatch, but for now I have a gentle radius in there.
---
2/4/01
Pics of the new JDC Engineering 12.27:1 Shortblock
Engine
JDC Engineering 12.27:1 Compression 306 Shortblock
Revised Valve Springs for Twisted Wedge Heads - AFM Stage III Ported
AFM N-91 Camshaft
38 lb-hr Injectors
Pro-M 80mm Mass Air Meter
Accufab 90mm Throttle Body
Dual valvecover breathers
AFM Stage III Port on Lower Holley
Exhaust
Bassani 3" Offroad X-Pipe

Bassani 3" Quite Thunder Mufflers
Suspension
Drivetrain
4.56 Rear Gears
5-Lug Moser 33-Spline Axles
Moser 33-Spline Spool
Moser C-Clip Eliminators
Pro Motion Powertrain Pro-Shifted T5
McLeod Sintered Iron Clutch Disk
MCleod 3-Finger Adjustable Pressure Plate
Pro Motion Powertrain Adjustable Clutch Quadrant and Cable
Pro Motion Powertrain Wide-Track Firewall Clutch Cable Stabilizer
Miscellaneous
Electric Fan
Trick Flow Valve Covers
5-Lug 15x10 Weld Pro Stars
5-lug 15x3-1/2 Weld Pro Stars
Corbeau Forza Racing Seats