This year (2000) a Dolly's Machine & Welding (Clinton, IL) 8-pt roll cage went in, a complete D&D Motorsports tube front-end with coil-overs and a new shortblock by JDC Engineering (AFM's head porter). This represented a lot of work and the project took about six months to complete.
The goal this year was to go with a Bassani 3" exhaust, complete with stepped longtube headers, cats and cat-back. An AFM N-66 cam was chosen and the goal was to be emissions legal with this more aggressive cam.
We ended up making a tick under 350 rwhp through the cats and tailpipes but unfortunately never had it emissions tested.
Click here for a description of the engine combo
and here for the dyno results.
The New JDC 306 Being Built Up
2/12/00

(Click For Larger Views)
---
3/26/00
(Click for Larger View)
---
4/27/00
Picked up the Cobra from Dolly's Machining.

Motor is in and am now installing the Bassani stepped longtubes - not easy!! - but should be worth it.

---
7/5/00
Finally got to the dragstrip a couple of weeks ago. With no tune, about 125 miles on the motor and old slicks (spun badly all three passes) I went 12.18, 12.17 and 12.15 with a best of 114.28 mph. Not too bad considering it's going to take a while to get the chassis tuned correctly.

The next step was to make a run up to the AFM dyno and I think we made some decent power. It was the most hp Rick has measured on a naturallly aspirated motor through cats and tailpipes, at 349 (see dyno graph below).

An interesting thing was evident from the dyno runs. We made a mistake by running the 1.7 rockers with the particular valve springs we had in. The extremely high ramp speeds of the N-66 coupled with the 1.7 ratio floats the valves above 6,000rpm. I will be putting a set of 1.6's in and going back to the dyno shortly.
---
Dyno Results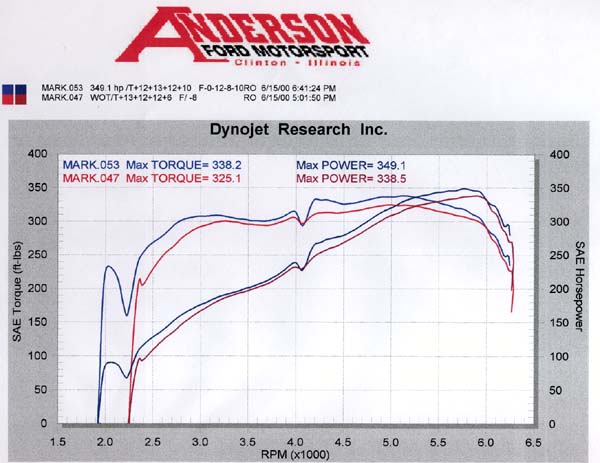 ---
Final Installed 306
7/5/00

(Click for Larger Views)
---
Engine
JDC Engineering 306 Short Block Running 10.5:1 Compression
TFS Twisted Wedge Heads - AFM Stage III Ported
Ford Motorsport Roller Timing Set
Holley Systemax Intake
AFM N-66 Camshaft
AFM Hi-Volume Power Pipe
Edelbrock 75mm Throttle Body
Pro-M 77mm Shorty MAF Meter
March Street Alternator & Water Pump Pulleys
March Race Crank Pulley
Ford Motorsport SFI Crankshaft Damper
Removed A/C and Power Steering
Fuel
255 lph Fuel Pump
30lb Injectors
AFM Adjustable Fuel Pressure Regulator
Vortech T-Rex Inline Fuel Pump
Ignition
Crane HI-6DS Digital Ignition
Crane PS-92 Coil
Livewire Ignition Wires
Exhaust
Bassani 1-5/8" to 1-3/4" Stepped Long Tube Headers

Bassani 3" Cat X-Pipe

Bassani 3" Quiet Thunder Cat-Back
Suspension
Dolly Machining 8-Pt Roll Cage
D&D Motorsports Tubular K-Member, A-Arms and Coil-Over Conversion
Granatelli Bump-Steer Kit
Flaming River Manual Steering Rack
Eibach Drag Launch Springs Front
AVO Adjustable Struts / Shocks
AFM Subframe Connectors
HPM MegaBite Jr. Lower Control Arms
Miscellaneous
4.30 Rear Gear Ratio
Moser 31-Spline Axles
Ford Motorsport 31-Spline Traction Lok
Simpson 5-Pt Harness
Motorsport Steel Bellhousing
Hurst Billet Plus Shifter
Synthetics Throughout
Ford Motorsport Brass Radiator
180 Degree Thermostat
AFM 150-Amp Alternator Kit
Cyberdyne Oil Press/Water Temp/Fuel Press/Volt Gauges
PMS (Programmable Management System)
---
November of 2000