This page is setup in reverse chronological order.
10/18/05
Here are few pics of the final motor with
external pump installed.
Click For Larger Images
---
9/15/05
I got one clean pass in at Gateway International last night.
9.69 @ 140.5

---
9/9/05
Guess some of you have been wondering what's been happening?
I got the car to the track following the dyno
session, but had issues with oil pressure not staying constant.
My best guess was that the stock oiling system was cavitating near 8500 rpm.
The last several months I have been busy installing a Peterson
WetVac system. This is a combination external oil and vacuum pump.
I was able to get the car back to the track last Wednesday
and made a 9.91 @ 138.2mph pass with a decent 1.39 60-ft.
With this mph, I believe a 9.70 is within reach.
---
7/03/05
WELL...How does 547 rwhp sound!
This peak number is at 7,500 rpm, but a glance at
the curve below shows rwhp is basically 550 from 7,500-8,500.
Also check out the difference from last year with
+90 hp / +60 ft-lb torque at 8,000 rpm!
This is with the same 347 shortblock from last year.
So this is all with a 0.697" lift AFM Hi-Rev Hydraulic
based on the N-113. 8,800 rpm without a hint of valve float.
Lifters are the Crane link-bars and the heads have
Ti keepers and retainers with 2.120 Ti intakes, 1.600 steel exhausts.
Changes from last year...

.

Is
Was

HEADS

Kuntz TFS-R flow numbers
AFM/JDC Stg 5 TFS

INTAKE

Kuntz Super Victor EFI
Wilson Manifolds 90-Deg Elbow
AFM/JDC Stg 3 TFS-R Lwr
Vortech Mondo Box Upr
INJECTORS
42 lb/hr
38 lb/hr

EXHAUST

Kooks 1-7/8" to 2" Stepped Headers

3-1/2" Bullet Mufflers
Bassani 1-3/4" to 1-7/8" Stepped Headers

3" Bullet Mufflers

COOLING

Heads plumbed for water.
Meziere 2-row Radiator with AN fittings and integral SPAL electric fan.
Stock Cooling with B-Cool 1-row radiator, Flex-A-Lite electric fan.

COMPRESSION

14.0:1
13.2:1

RACE WEIGHT

2945 lb
2890 lb

BEST ET/MPH

9.69 @ 140.5
9.991 @ 135.3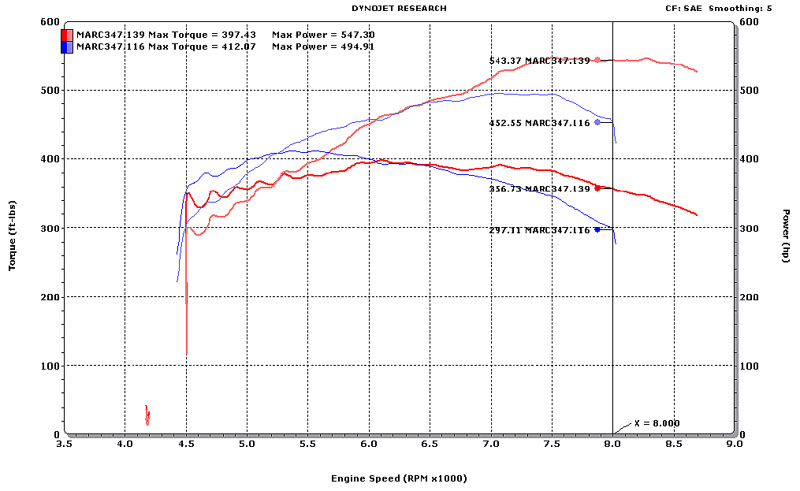 Took a few pics of the Cobra with the new 3" HO Fibertrends
Cowl Hood and Bogart Force 5 Wheels.
Click For Larger Images
6/28/05
Fired up the motor today.
Hope to get up on the AFM dyno this weekend.
6/26/05
I've been busy fitting a new set of heads, exhaust, and intake onto
the 347 shortblock from last year.
Heads and intake are from Kuntz & Company... I had Jim do me
a set of killer TFS-R heads and one of the new Edelbrock Super
Victor EFI intake manifolds. Jim got some great numbers out of these heads.

Exhaust for this year starts with a set of Kooks 1-7/8" to 2"
stepped headers into 3-1/2" collectors, with 3-1/2" Bullet mufflers.

A set of 42 lb/hr injectors replace the 38's from last year.
Compression remains at 13.2:1, and Rick Anderson and I
have one whopper of a AFM hydraulic Hi-Rev cam in there (N-113HL).
Because of the high lift, we had to go with a set of Crane link-bar lifters.
The plan is to see how far we can push the hi-rev hydraulic cam technology.
Shift points won't be known for sure until we get it on the dyno,
but 8,500 rpm should be in the ball park.
I have some pics of the new combo below.
Plan is to fire her up tomorrow and get some dyno time soon.
Stay posted.
Click For Larger Images
6/19/05
Last year's shortblock has been topped off with a set of
Kuntz & Company TFS-R heads and Super Victor EFI intake.
Click For Larger Images
Everything below is with respect to the 347 with standard TW heads.
11/15/04
Went to US41 in Morocco, IN yesterday.
Posted a nice wheels-up video (was the best 60-ft time ever, a 1.30).
11/9/04
Went to Bowling Green to do some testing last Saturday.
Posted another video (10.13 pass). Couldn't get the car
to hook down there.
10/29/04
Added a video (10.16 pass at Byron)
during the Real Street Outlaw Race last weekend).
10/28/04
Still trying to hit that 500 rwhp mark. Tried a few things
on the dyno, but not quite. Going to give a Spyder intake a shot here real soon.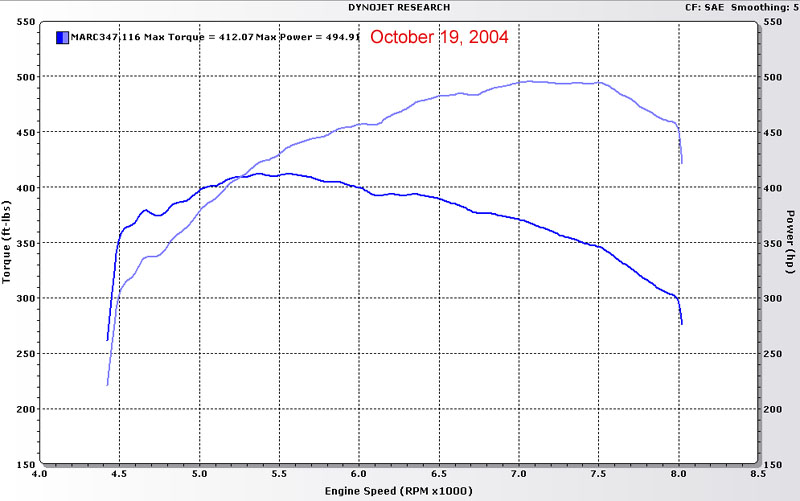 ---
10/6/04
Well, I made my first 9-second pass last Wed.
Went a 9.991 @ 135.29!
I am on the left below.
Not too bad for a little N/A, hydraulic roller, diaphragm clutch, 347.

10/5/04
I ran Open Comp in Bowling Green at the NMRA race last weekend and qualified 12th fastest out of 55 cars.
My best time was a 10.03 @ 134.4 - Almost got a nine out of her.
8/3/04
I ran up at the Joliet NMRA race in Open Comp a couple of weeks ago. Out of 43 cars, I qualified 9th fastest with a 10.09 @ 134.6.
I went out in the second round, but had fun none the less.
7/18/04
Made some passes up at US41 Dragway today. The weather was a bit warm and the air wasn't too good. Could not get the car to hook, and spun at the starting line on all three passes. Did lower my ET down to 10.15, though. Went 10.15 at 133.47, with two other passes of 10.17 and 10.18.
Still need to get the motor tuned!
6/16/04
Made two passes at Gateway International and went 10.26 and 10.22 at 132.6 right off the trailer.
6/13/04
Finally got the motor fired today. Sounds rather mean with the 3" bullets exiting the Bassani long-tube header collectors.
If it doesn't rain, will be heading to Gateway International Wednesday night to see what happens.
4/6/04

This past winter I installed a new set of 4.56 gears (chipped a few teeth in last fall's accident) into the 33-spline spool. All went into a new 8.8 housing fully braced and welded from DTS, Drive Train Specialties, out of Michigan. Also went with a TA Girdle, replacing the stock cover.
I have updated the rear suspension with a set of HPM Megabite Sr. LCAs for the adjustability and their spherical rod-end UCAs.
I have also taken a bunch of weight out of the car for this season, including 200-lb of lead from the rear bumper, the heater box (30-lbs) and the alternator (29-lbs including bracket and associated wiring). Will be running a 16-volt Turbostart battery this year.
A new straight-cut G-Force geared T5 built by Pro Motion is going in for this year too.
When I brought the shortblock up to JDC Engineering for a refresh, we noticed a bit of main cap walk. Discussions with Jon Carls resulted in the purchase of a new FRPP R302 block. I have the Sportsman block up for sale. Jon should be getting the block back from machining next week.
Did an interesting exhaust test on the dyno last month. I took the 3-inch Bassani x-pipe and mufflers off and bolted on a pair of 3-inch Bullets to the collectors. This made a huge difference as can be seen by the dyno graph below. I figure this is worth 2-tenths with 20 average hp more at the rear wheels and 40 less pounds.
Check out the dyno video here (4.3MB .wmv file)
For this year, I am keeping the AFM hi-rev hydraulic cam (a slight variation on the N-113 from last year) and the TFS TW heads. Still have to weight and balance the car after I get it back together but race weight should be in the 2850-2900 pound range.
We shall see if it will go a nine on the motor.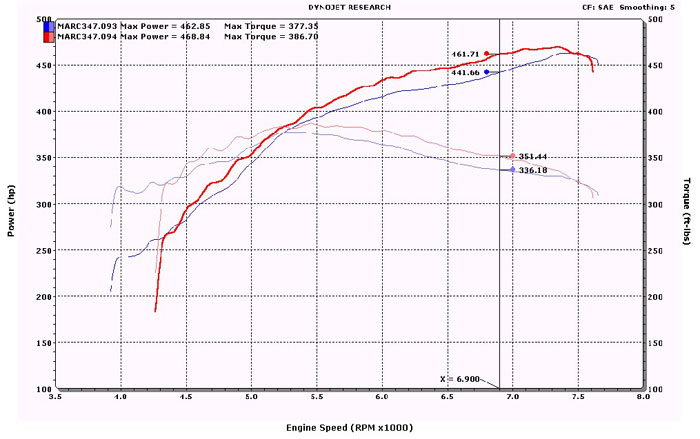 ---
11/2/03
Had an interesting evening last Wednesday night at Gateway! Initially had trouble hooking the car and finally got the suspension going.
Went a bunch of low 10.40s at over 132mph and on the last pass, leaving at 6800, BOOM! As it turns out, I twisted both axle tubes, breaking the welds and tearing a few things up. Rearend is out of the car and up to Dolly's Machine and Welding. I think, with the low-to-mid 1.3x 60-foots, that it is time for a rearend brace!!
I have uploaded several vids to the site and hope you like them. I have to thank my 12-year old son, Chris, for these. Now he is just learning the ropes so keep that in mind. There are a couple of cool ones from inside the car too.
---
10/26/03
Almost got my 10.2x pass today at MAR. Went 10.30 @ 132.4: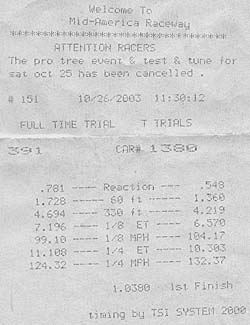 Will try again at Gateway this Wednesday night.
---
10/25/03
Just got back from the AFM dyno... allmost hit 500 rwhp!
The changes from the last dynograph (below) are PRO-Motion T-5
with G-Force gearset and New Vortech Mondo Upper Lid on intake.
Download mpeg video of 8,000 rpm dyno pull
1.7MB file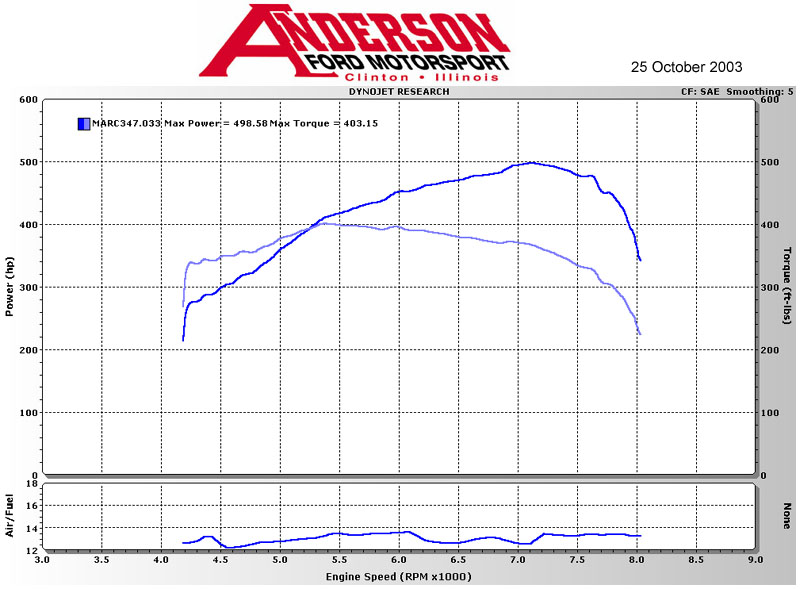 ---
10/23/03
Here is a pic of the new Vortech Upper Lid for the Mondo Intake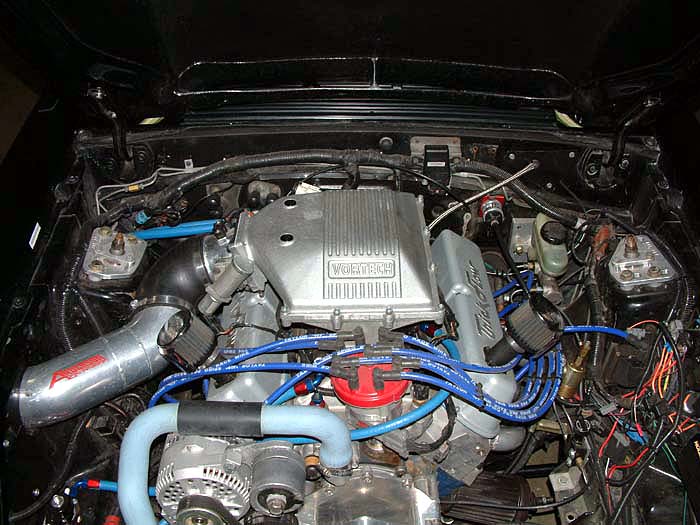 I havn't updated the site in a while so I thought I would talk about the progress I have made with the car this year.
I have been running the larger Vortech Upper Mondo Lid along with a G-Force gearset Pro-Motion built T-5. I have made 80+ passes with the car so far this year, with over 110 passes on the 347.
I have been getting the feel for the car, and have had a lot of success tuning the suspension. My best 60-ft so far this year has been a 1.33! Last night, at Gateway International T&T, I made three passes, all in the 10.30s. The car has been pulling some pretty impressive wheel stands also, hanging the front tires 3-4 feet in the air. I hope to get some video up on the site soon.
Ran a 10.37, 10.38 and a 10.35 @ 131.6, with a 1.407 60-ft. I spun slightly on that run also. I feel like there is more in the car with this cool weather and look forward to some 10.20 passes this weekend at my local track, MAR.
---
6/15/03
Finally took a few pics of my 5-gallon fuel cell install. I had Keith Dolly install the cell and mount the Aeromotive A1000 pump.
---
4/1/03
I made it up to US41 last Sunday, getting the car out for the first time this season. I made 6 clean passes, all granny-shifted and all in the 10.70s, several at 130.5mph.
Need to tune the chassis some more next time out to the track.
---
11/23/02
I have added a graph showing my flow numbers on my AFM/JDC Stage V Trick Flow Twisted Wedge heads. A bunch of folks have asked to see these.
I was having a little fun and have added a few Dyno graphs
comparing my previous combinations. The engine combos are
not all that similar, but it is still neat to see how they have changed
over the years.
The curves are here:
The first combo was a very streetable package that made ~310 rwhp and passed emissions with flying colors. This was when my Cobra was my daily driver and it did go 11.96 @ 112.
The second was my 12.3:1 306 that ran 10.92 @ 124 last year - not a street car by then. I was still using the stock block but we couldn't keep main bearings in it for very long at 7,500 rpm.
The bad-boy is my current 347 built off the FRPP Sportsman block. This combo has pushed the Cobra to a 10.43 @ 131.6 so far. I think she has a 10.20 in it for next year with the 131.6 mph trap speeds with a little chassis tuning and practice.
---
11/22/02
Plans for next year include upgrading the rest of my fuel system and
taking a bit more weight out of the car.

The Cobra is up at Dolly's Machine & Welding in Clinton, IL where
all my chassis work has been done. Keith Dolly is installing a 5-gallon
fuel cell in the car. I will be running the Aeromotive A1000 fuel pump
with a -08 supply line and -06 return line. Also, Keith is repairing my
upper torque boxes that got damaged this year.
---
11/04/02
Just having a little fun tonight (at my neighbors' expense).
I put together a short video - mostly for the audio portion -
of the Cobra at idle with the 3" X-Pipe and Mufflers removed.
Download it here - openheaders.mpg (0.976 MB)
10/22/02
Attended a Test Session at US41 Dragway in Morocco, IN
last Sunday with Rick Anderson.
We got the Cobra to run 10.43 @ 131.6 mph with a 1.375 60-ft time!
Considering I havn't touched the chassis yet and this mph, I think
she has a 10.20 in it.
---
9/19/02
First time to the track with the new 347 in the Cobra last night.
It was pretty muggy weather-wise out at Gateway but I didn't really care
as I haven't been behind the wheel in six months (it showed too!).
I only got two clean passes in, granny shifting both just feeling the car out.
My first good one was shifted at 7,000 and I went 10.828 @ 127.59
with a 1.434 60-ft. leaving the line at 6,000.
The second good run was the best E.T. with a 10.771 @ 126.99
with a 1.425 60-ft. leaving the line at 7,000.
I shifted at 7500 this time.
With some better weather and more seat time
I know the car has 3-4 more tenths in it.
---
9/14/02
Got the Cobra with its new 347 up on the AFM dyno today.
Rick and I got the fuel curve dialed in, then started playing with the timing.
We had a few more runs to make and then an ignition gremlin struck - no spark.
Tried replacing things, but couldn't track the problem down before it was time to go.
We made 474.2 ponies at 7,100 rpm and 386.8 lb-ft torque at 5,700 rpm.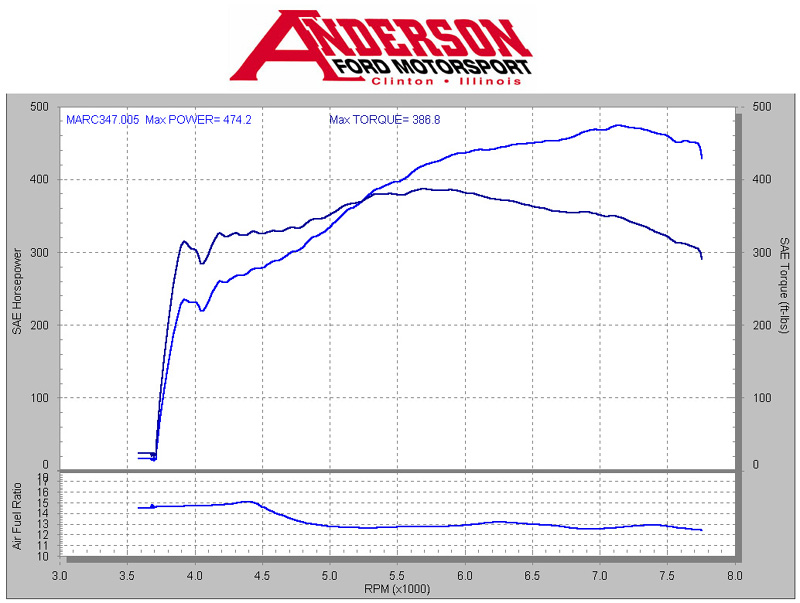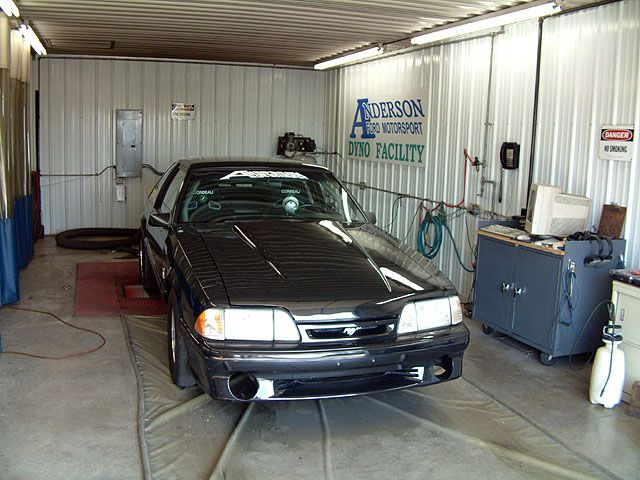 ---
9/11/02
Finally got all the small details taken care, loaded 5 gallons of fresh VP C12
and fired the motor tonight.

This 13.2:1 compression 347 sounds pretty amazing singing through the large Bassani
stepped headers, 3-inch Bassani X-Pipe and 3-inch Bullet mufflers.
Will be hitting the AFM dyno very soon.

Check out some picks of the new motor installed.

(click images for larger views)
---
9/4/02
I picked up the longblock from JDC last week and should
get the motor running by this weekend. The combo is listed below.
Milled the heads to get a 54-cc combustion chamber which also meant
we had to angle-mill the intake side of the heads to get the TFS-R lower
to match up.
Compression came in at 13.2:1 with the custom Venolia pistons.
(click images for larger views)
---
This combo should make peak power over 7,000 rpm and I will be hoping for
460-470 ponies at the wheels.
At 3,050 lbs, the Cobra should go low 10's at 130mph.
13.2:1 347 c.i.d. Engine
FRPP Sportsman B-50 Block
DSS 4340 Forged Steel Stroker Crank, Internally Balanced
DSS Ultra-Lightweight H-Beam Rods
Venolia Gas-Ported High Compression Pistons
Speed-Pro Rings
AFM 70s804 Hi-Rev Hydraulic Camshaft
Stock FRPP Lifters
Vortech Mondo Box Upper Intake, AFM/JDC Stage III Ported TFS-R Lower Intake
AFM/JDC Stage V Ported TW Heads
2.070" Steel Intake Valves, Titanium Retainers and Locks
AFM Hi-Rev Valve Springs
105-mm Accufab Race Throttle Body
Canton Pro Drag Oil Pan
Neutral Balanced AFM Aluminum Flywheel
FRPP Neutral Balanced Harmonic Balancer
Suspension
Dolly Machining 8-Pt Roll Cage
AFM Subframe Connectors
Weld Pro-Star Wheels

Front:
D&D Motorsports Tubular K-Member, A-Arms and Coil-Overs
Granatelli Bump-Steer Kit
Flaming River Manual Steering Rack
Strange Single Adjustable Struts
Goodyear Front Runners Mounted on 15x3.5 Pro Stars


Rear:
HPM Double-Adjustable Uppers
HPM MegaBite Jr. Lowers
HPM Anti-Roll Bar M Rear Anti-Roll Bar
AFCO Double-Adjustable Rear Shocks
M/T 26x10 ET Drag Slicks Mounted on 15x10 Pro Stars with 6.5" B.S.
Fuel System
5-Gallon Aluminum Fuel Cell
Aeromotive A1000 Fuel Pump

Aeromotive A1000 Fuel Pressure Regulator
FRPP 38 lb-hr Injectors
Mallory Fuel Rails
Ignition
Crane HI-6DS Digital Ignition
Crane PS-92 Coil
MSD Ignition Wires
Drivetrain
Pro Motion Powertrain T-5 w/G-Force Helical Cut Gears
Moser 33-Spline Spool and Axles
Moser C-Clip Eliminators
FRPP 4.56 Rear Gears

Exhaust
Bassani HPC Coated 1-3/4" to 1-7/8" Stepped Long Tube Headers
Bullet 3" Mufflers
Miscellaneous
G-Force 5-Pt Harness
McLeod Steel Bellhousing
Kirban Shifter
Synthetic Engine, Transmission and Rearend Oils
Be-Cool Aluminum Radiator
Autometer Mechanical Oil Pressure, Water Temperature, Volts, Brake Pressure, Fuel Pressure Gauges
PMS (Programmable Engine Management System)
AFM AF-0112 Power Pipe
---
9/4/02
I picked up the longblock from JDC last week and should
get the motor running by this weekend.

Check out some picks on my new project 347 page.

---
7/28/02
JDC received the 347 reciprocating assembly last week
so the project is getting closer.
Here are a few pics of the internals.
6/3/02
After seeing Rick Anderson's 347 make 471 hp at the wheels, I have decided to take that route myself.
I am having Jon Carls freshen up my 306 shortblock with new bearings and I will be selling it. This is the shortblock that made 402.8 rwhp and is set up with 12.27:1 Ross high-compression pistons with 61cc combustion chamber TW heads..